The NJATC or National Jounrneyman Apprenticeship Training Commission Aptitude Test is required by any person wishing to enter an NJATC,  IBEW/NECA (www.ibew.org), or local JATC Affiliate Apprenticeship Program. The test is administered by your local NJATC/JATC Training Center or affiliated organization. Go to the Electrical Apprenticeship Programs By State page to find more information about testing areas in your local area.
The NJATC Aptitude test covers a variety of subjects including mathematics, and not limited to rudimentary algebra and geometry. (keep in mind you can always take a Math Refresher course, there are online courses available for this, the NJATC may also offer a course for this depending on your area, even community colleges can be a good educational resource for this sort of course – in the classroom or online)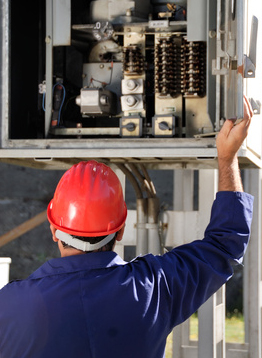 Also included in the test is a Reading Comprehension section, this area will present you with a reading sample or passage and will measure your ability to extract information from the reading. The reading will be shown and then a series of multiple choice questions asking the test to answer the best choice based a variety of factors from the passage. There may be some basic logic involved such as calculating times to arrivals and other thing of this nature.
The aptitude test is an important step in qualifying for any apprenticeship program, studying sufficiently is key to passing this exam and ensuring your passage into the apprentice program of your choice. Those who do not feel prepared for the test may take a math refresher course, these courses can be found at a local community college, as online courses, or through your local NJATC or IBEW organizaton.
In any case it is a good idea to run yourself through some math exercises even if you feel confident about your abilities with basic algebra. Since we often don't use this sort of thing on a day to day basis sometimes even the simplest math functions can trip us up. Check the other areas of this website for more information and resources related to the test and your local testing centers, as well as other electrical apprenticeship-offering organizations and tips.
More Information Plus Sample Exams Are Coming Soon!
You can read more about the NJATC on this encyclopedic Wikipedia Article about them.