Electrician Apprenticeship's come in many forms in the United States. For those who may be interested in finding an apprenticeship it is important to know your options as these early decisions will effect your electrician's career for time to come.
Finding Apprenticeship Programs Near You
You will note as you read that apprentice entry prerequisites vary by state and by organization – additionally the nature and length of your apprenticeship will vary also depending on your state and organization. Though not the most common route some even obtain related education through a community college, technical school, or even some form of online technical courses.

Start With The Basics…Or Find Specific Info
We encourage you to read the information on this page as it provides you with very valuable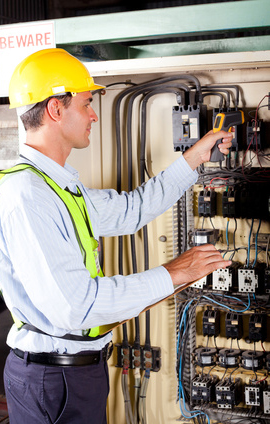 knowledge for those just beginning the learning process, if you are are here just looking for programs in your state or state licensing, education, and apprenticeship requirements then click on your states page below. Note that new states and information is being added daily to our directory.
Before you Choose an Apprenticeship Program
There are some very large organizations like the NJATC (National Joint Apprenticeship and Training Committee) that offer training through their affiliate schools however it is important not to jump into one of these programs without first knowing fully what your options are, and that's where we come in. For example it is important to know the difference between Union Vs Non-Union Apprenticeships as there are potentially pros and cons to both.
The Basics on the Electrical Workers Profession
When we talk about wanting to become an electrician we have to first define some basic terms that will help you as you move forward in the learning process. When most people think electrician they think commercial and residential electricians or the term electrical contractor may also come to mind – however different states and organizations define specialties in different ways…
Choose Your Electrical Trainig Focus
some of the most common ones are Outside Lineman, Residential Wireman, Inside (commercial) Wireman, and VDV (Video-Data-Voice) or 'Installer Technician'. Some even more specialized (less-common) areas include hospital electricians, theatre electricians (gaffers) as well as marine electricians. We'll talk more about the different types of electricians roles after we finish the basics though.
Starting An Apprenticeship…Path To Jorneyman And Beyond
Almost always an electrician starts out as an apprentice, generally a paid gig you can expect this training period to last 3 to 5 years depending on your state, during this time you will be working under a more experienced individual. After successfully completing your apprenticeship you can then become a licensed Journeyman Electrician. You've completed your apprenticeship and you can work alone in the field although usually under the general supervision of a Master Electrician and under his employment, although you can also be under the employment of a contractor or a different kind of company like a manufacturing plant or a utilities (i.e. electric) company. After 7 years (in most states) of being a Journeyman you then qualify to become -or apply to become- a Master Electrician, this means you can not only work alone but can run your own business if you want, Master Electricians also serve as supervisors for Journeymen and those in the Apprentice stage as well.
Electrician's Salary in 2013…How Much Can I Expect To Make?
Though your salary depends largely on things like your specialty area and geographic region as a general guide an Apprentice can expect to make around $25,000-$35,000 per year, a Journeyman salary can be between $30,000-$70,000 per year and a Master Electrician will likely earn between $40,000 and $100,000 although many Master Electricians earn far greater or run contracting businesses that allow them to earn more. Here's a convenient chart we put together showing some recent information about electrical worker's salaries.
2013 Electrician Salary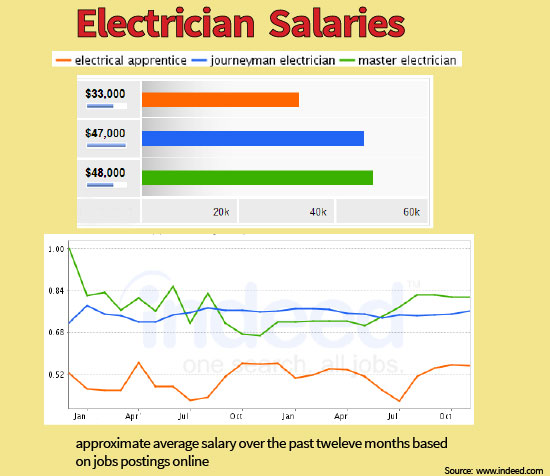 Training, Courses, Schools, Programs…and Entry Requirements
All states have two general requirements for becoming a certified (Journeyman electrician) which includes a certain amount of in-class formal education and a certain amount of on-the-job apprenticeship training.
You can choose to first do the formal education part by attending a trade school, or getting an associates degree and then searching for your apprenticeship to meet the on-the-job training requirements or you can look for an apprenticeship program which provides you with in-class and on-the-job training at the same time. Learn more about these two different options and what path makes the most sense for you to pursue (link to education site). For most states either of these options require you to be 18 years of age and have a high school diploma or equivalent, it is also usually required that you have adequate grades in mathematics and algebra courses.
Electrical Licensure By State
Though most states only require you to have a high school education (or GED) to start in an apprenticeship program -if your state has higher requirements you may consider getting an online associates degree or finding an online technical school or online courses to meet these requirements. Also note that it is useful to have some basic math and algebra abilities and some programs will require adequate grades in these types of courses (be it high school or associates/college courses).
Apprenticeship Programs consist of classroom training as well as on the job training. There are a large number of organizations (usually trade associations) that run apprenticeship programs and they can vary widely in quality, length, and associated costs (like required books and tools. So its important to do your research.
More On Online Technical Schools
Weather you're just not sure if this is for you and would like to learn more, or perhaps your state requires an associates degree to enter your desired program, or you'd prefer to get the classroom work out of the way beforehand, or simply don't meet the basic math requirement for a program you may want to consider looking into Electrical Schools Online or just taking Online Courses. For example if you don't have an adequate grade in your high school math courses often times an online course from an accredited college or university on the same subject is an acceptable replacement.